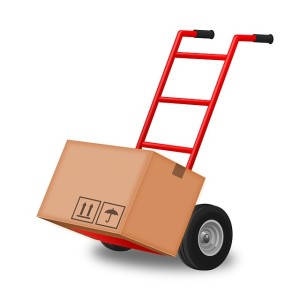 If you're planning on moving to Santa Fe from another city or within the City Different, here are some tips that can make it quite a bit easier on you. With a little bit of forethought, moving won't be that hard at all.
Know What to Pack First
One of the easiest ways to take the pain out of moving is to start the process by packing the things you're going to need right away. Do this as if you were going on a short trip.
Get an overnight bag and pack everything you would take with you if you were going on a mini vacation. This would include toiletries, a few changes of clothes and so forth.
By doing so, you can avoid digging through boxes that you've just packed, looking for items that you could have predicted you'd need on the way to your new Santa Fe home, or just after you arrive.
Use Clear Containers for the Essentials
When you move into your new place, you're going to need to get at some of your possessions right away. Put those into clear containers so you can see what's in each box.
By doing this, you don't have to start opening up box after box, searching for the items you need immediately. Consider including the following items in these containers:
Your phone charger
Power strips
Toiletries
Tools you'll need for unpacking the rest of your items
Paperwork that you might need when you're moving in
Label Intelligently
Writing "kitchen," "bedroom," and so forth on boxes really isn't enough, which you'll find out right away when you start unpacking.
Put labels on your boxes that give detailed information on what you have inside of them. Some people even use their mobile device to create a sort of database, numbering each box and creating a packing list of each item that's in the boxes.
You don't have to get overly sophisticated about this. You can create such a packing list by typing it all into an email and sending it to yourself or by making a word processor document that you can open up on your phone or your tablet.
Clothing Is the New Bubble Wrap
Bubble wrap and other protective materials for moving can be expensive and, of course, there is a waste issue involved.
Instead of using disposable packing materials to protect your fragile possessions, consider using old clothes, or even some of your current clothing to wrap and protect items. It cuts down on waste, expense, and can be very effective if you do it correctly.
Know Your Limits
Particularly toward the end of the packing process, you'll be tempted to start throwing anything and everything in a box without considering whether or not you can safely lift it or if the container can even handle the amount of weight you put in it.
For very heavy items, reusable plastic boxes are better choices than cardboard boxes, as they can carry more weight. They typically have handles on them, making them much easier to pick up safely.
If you're renting a moving truck, get one with a dolly so you can carry the items in your house safely and in fewer loads. If you're not, learn how to lift properly and be careful when you do.
Consider Parking
Santa Fe is famously the oldest capital city in the United States. While that certainly adds to the charm, it also means that we have a lot of narrow streets and parking a moving truck while you're unloading could be quite challenging, depending upon the neighborhood you're moving into.
Plan out where you're going to park your vehicle beforehand and, if you do have to inconvenience your neighbors a little bit while you're unpacking, be sure to give them a heads up.
Consider Hiring Pros
It might cost a little bit more, but if you don't have the time to pack correctly, consider hiring a professional moving service. They can vastly cut down on the amount of time involved in your move, they pack items so that they're safe on the way to your destination and, of course, they tend to have pretty strong people working for them, so they can carry heavy loads without anyone getting hurt.
Once you get everything in the house, remember you don't have to unpack it all right away. After all, this is the land of manana!
If you need help finding people who can help you move in, feel free to get in touch!